News
Published on December 19 2014
Charity-funded or state-funded?
We recently welcomed Dr. Nóra Stefka and Mr. Olivér Komma to Yorkshire on a healthcare study / business English coaching programme. As part of their trip, and in line with our innovative approach of facilitating sharing know-how and exploring best practice with local professional counterparts, we organised for them a 'living case study' with Yorkshire Air Ambulance (YAA).
Our visit started with an informative and inspiring presentation from Mr. Paul Gowland, Director of Fundraising, on the role and regulation of charities in financing and delivering healthcare services in the UK, the many creative ways in which YAA raises the £9,990 per day it needs to keep its two helicopters maintained and in the air, and the valuable corporate partnerships it has forged and the innovations these have led to.
With air ambulances in Hungary being entirely state-funded and operated, the follow-up discussion allowed us to explore the sometimes remarkable benefits of delivering air ambulance services as a charity.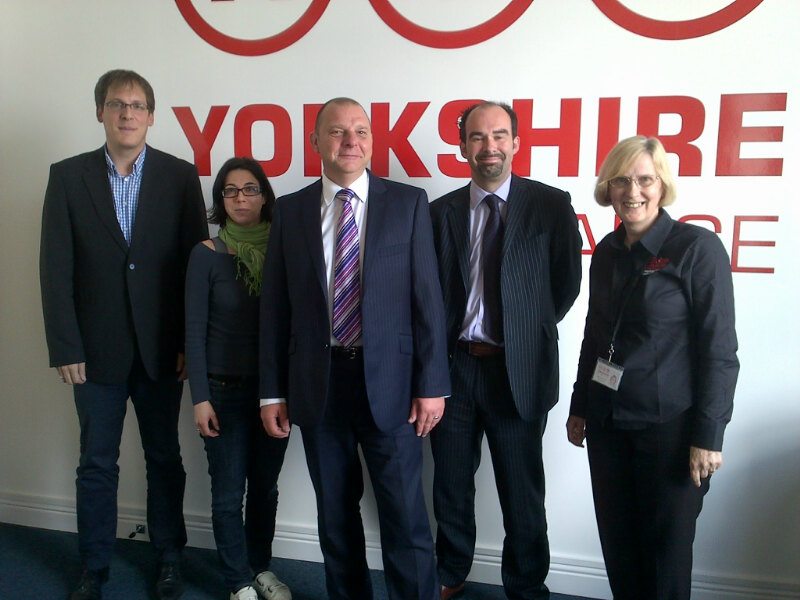 pictured from left to right: Olivér Komma – Health Infrastructure Development Consultant at the Management Training Centre of Semmelweis University of Medicine, Hungary, Dr. Nóra Stefka – Deputy Chief Executive of Hungarian NHS, Paul Gowland – Director of Fundraising at Yorkshire Air Ambulance, Chris Mellor – Business Development Director at GOXM Training & Consulting and Dr. Melanie Devine – Volunteer Community Fundraiser at Yorkshire Air Ambulance.